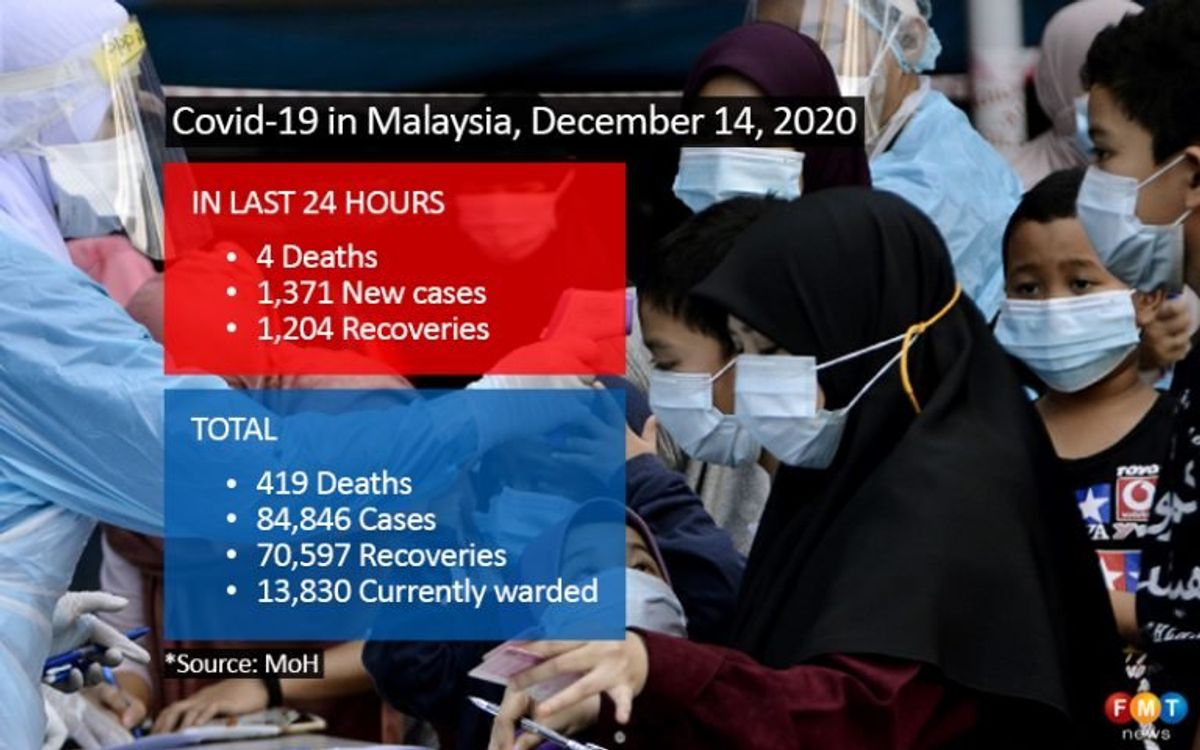 PETALING JAYA: The health ministry has reported 1,371 Covid-19 cases and four deaths in the past 24 hours.
Health director-general Dr Noor Hisham Abdullah said there were 1,204 recoveries, bringing the total number of those discharged to 70,597.
In a press conference, Noor Hisham said the 1,371 cases bring the total number of infections in the country to 84,846.
Meanwhile, the four deaths bring the toll to 419.
A total of 13,830 people are still being treated, with 114 of them in the intensive care and 62 requiring respiratory assistance.
Selangor recorded the most number of cases today with 532, of which 311 were from clusters; 109 from close contact screenings; 111 were from other screenings and one was imported. Selangor's cases made up 38.8% of today's overall total.
Sabah had the second most number of cases today with 283, of which 65 cases were from close contact screenings. A total of 155 were from existing clusters while 63 cases were from other screenings. Sabah's cases made up 20.6% of today's overall total.
Negeri Sembilan recorded the third highest number of cases with 260. A total of 252 were from existing clusters, one was from close contact screening and seven were from other screenings. Negeri Sembilan's cases made up 19% of today's overall total.
Other states and federal territories with new cases reported today were Kuala Lumpur (124), Perak (62), Johor (45), Penang (31), Labuan (16), Terengganu (nine), Kedah (five) and Kelantan (two).
Melaka and Putrajaya each recorded one case.
A total of 72 of today's cases were detected in prison and temporary detention centre clusters, the bulk of which were from the Tembok prison cluster (48 cases) and the Jalan Harapan cluster (22 cases).
Two of today's four deaths occured in Sabah, while there was one death each in Perak and Labuan. They were three Malaysians and one foreigner aged between 40 and 54. Three of them had a history of chronic illnesses.