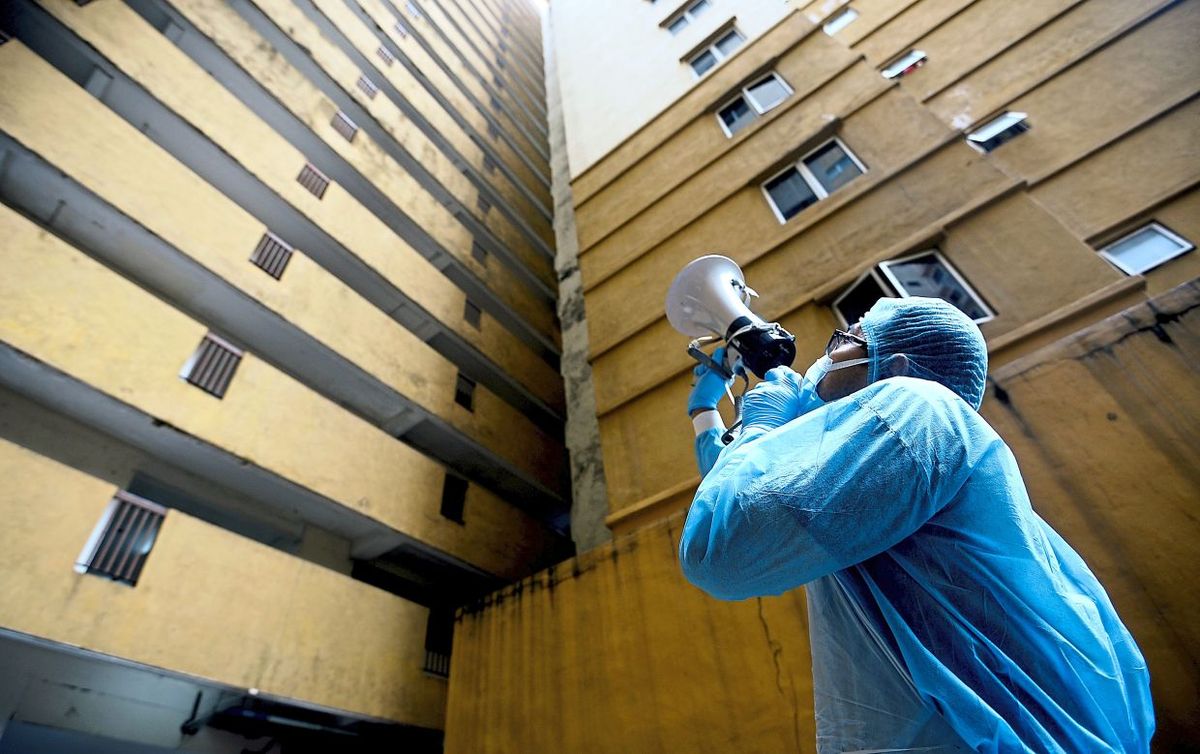 PETALING JAYA: Medical personnel from the Petaling district Health Department will continue to conduct Covid-19 tests for all Pelangi Damansara flat residents in Persiaran Surian where up to 23 people have tested positive for the virus.
Petaling district disaster management committee chairman Johary Anuar said the test started on Wednesday with residents in Block B.
"I am told that residents in Block B have completed the test. Residents in the other blocks will also go through the test, " he said.
The Pelangi Damansara flats area comes under two constituencies, where Blocks A, B, C, G, I and J come under Bukit Lanjan assemblyman Elizabeth Wong while Blocks D, E, F and H come under Bandar Utama assemblyman Jamaliah Jamaluddin.
When contacted, Wong confirmed testing had begun since Oct 21 and "there are close to 1,000 units in the compound, and it will be time-consuming but this test needs to be done for the people's well-being, especially those with symptoms".
Petaling Jaya district police chief Asst Comm Nik Ezanee Mohd Faisal said policemen were based at the flats to facilitate the test.
"Our men will ensure people abide by the SOP, which requires physical distancing, " he said.
Medical personnel questioned each resident to determine their risk for exposure to Covid-19.
"Most of them were asked about symptoms, their whereabouts in recent weeks and possible contact with anyone confirmed to have Covid-19, " said Johary.
"We are not screening everyone as for now our priority is positive cases that might have visited neighbours, " the official said.
"It is just precautionary and for now only these levels are prioritised, " he said.
An 80-year-old resident said she came for screening even though her residential level was not affected.
"My level is not on the list but I just want to get tested because I'm worried due to my age.
"Plus, I am staying with two tenants who are foreign workers who work in red zones, " she said.
Another resident, Fadilah Idris, 31, said she knew about the test as soon as she saw notices at the lift.
"Though I haven't heard about any cases in my block, I was concerned when I heard MOH would be doing testing, " said the nurse, who claimed she has sore throat and flu.
"Since I'm working as a nurse, and I have been feeling a bit unwell lately, I made the decision to do the test, " she said.
Nana, a Filipina who has resided in Malaysia for more than 13 years, came to do the test after a friend informed her about it.
"I don't live here but I always come here every Sunday to hang out with my friends and stay the night.
"Since I heard that nearby blocks have positive cases, I worry that ours might be affected, " she said.
Nana was told by a health official to self-quarantine at home and not to come to Pelangi Damansara for at least 14 days.
A restaurant worker, Norrashidin Hanapi, said he decided to come for the test as a precautionary measure.
"It is because I work in a restaurant where there is a lot of interaction with customers, " he said.
Residents who displayed symptoms were issued notice for them to undergo the mandatory two-week self-quarantine while they wait for their results.