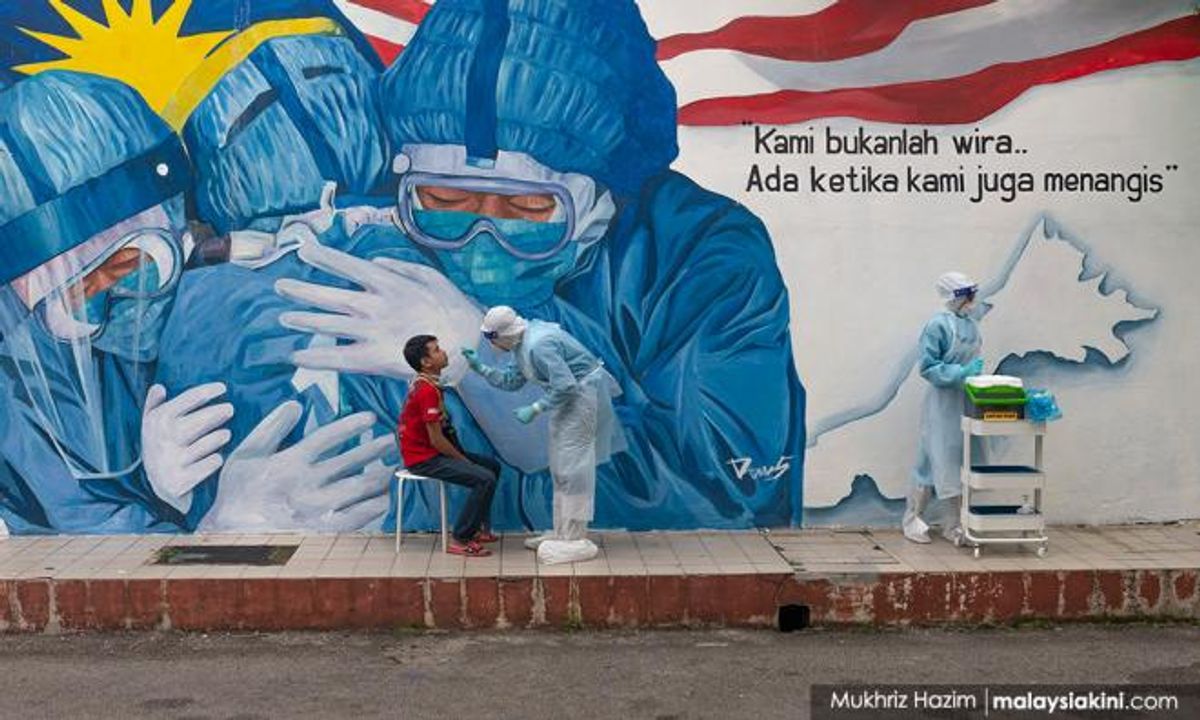 Covid-19 | A record-setting 2,234 new Covid-19 cases have been reported by the Health Ministry today, of which 70 percent were in the Klang Valley region alone.
The last record (2,188) was set on Nov 24.
According to the Selangor Health Department, the massive spike in Selangor was due to new cases detected from the Seruling cluster involving workplace testing.
The new cases mainly involved the Kapar and Klang locality but has spread across various districts in the state.
There was also a large spike in the Hentian cluster, an existing cluster which emerged from the Kajang bus station.
Leading indicators:
Active cases: 11,867 ↑ (1,119 more than the previous day)
Patients in ICU: 124 ↓ (3 less than the previous day)
Intubated patients: 60 ↓ (1 less than the previous day)
Deaths: 3
[For 14-day cumulative new cases count at mukim (locality) level, click here. For details of new cases by clusters, click here. There may be delays to updates by the respective state health departments.]
Health director-general Dr Noor Hisham Abdullah did not hold a press conference today and communicated to the press through a press release.
He explained that the spike in the new cases from the Seruling and Hentian cluster was due targeted screening of workers.
"New cases in Selangor are expected to remain high after the expansion of the foreign worker screening program by Socso and proactive efforts by employers in the Klang Valley," he said.
Selangor also reported 97 new cases that were categorised as "other screenings", an umbrella term for screenings on people with symptoms, pre-surgery screening, workplace screenings and pre-departure screenings, among others.
Two deaths were reported in Sabah . The cumulative Covid-19 death toll for Sabah has reached 228 or 57.8 percent of the national total (396).
Details of the victims - all Malaysians - are as follows:
Patient 56,860 - Male, 72, passed away at the Keningau Hospital.
Patient 59,752 - Male, 26, passed away at the Labuan Hospital.
Patient 75,507 - Female, 63, dead on arrival at the Duchess of Kent Hospital, Sandakan.
Breakdown of new cases:
Selangor (1,428)
Existing clusters: 1,200
New cluster (Tapak Bina Jalan Bukit): 39
Close contact: 92
Other screening: 97
Sabah (274)
Existing clusters: 100
Close contact: 113
Other screening: 61
Kuala Lumpur (136)
Existing clusters: 79
New cluster (Tapak Bina Condong, Tapak Bina Jalan Stadium): 25
Close contact: 11
Other screening: 17
Imported: 4
Perak (115)
Existing clusters: 111
Close contact: 1
Other screening: 2
Imported: 1
Johor (100)
Existing clusters: 52
New cluster (Jalan Dalam, Tenum Merah): 9
Close contact: 26
Other screening: 13
Negeri Sembilan (67)
Existing clusters: 51
Close contact: 6
Other screening: 10
Pahang (45)
Existing clusters: 40
Other screening: 5
Penang (42)
Existing clusters: 3
Close contact: 29
Other screening: 10
Kedah (14)
Existing clusters: 11
Close contact: 1
Other screening: 2
Malacca (5)
Existing clusters: 3
Close contact: 1
Other screening: 1
Kelantan (3)
Existing clusters: 2
Other screening: 1
Terengganu (3)
Existing clusters: 1
Other screening: 2
Sarawak (1)
Other screening: 1
Putrajaya (1)
Close contact: 1
The Health Ministry reported that there are 187 active Covid-19 clusters in the country of which 57 reported new cases today.
The clusters which saw the largest number of new cases are the Seruling (843), Hentian (315) and Tembok (104) clusters.
The Seruling cluster was a new cluster classified yesterday involving several districts in Selangor and was detected through workplace screening.
There are scant details on this cluster. Noor Hisham did not hold a press briefing today and communicated through a press release.
The Hentian cluster has been active for several weeks and involved worker dorms in the Kajang bus station vicinity, which is still under enhanced movement control order (MCO) lockdown since October.
The Tembok cluster originated from a jail in Kedah and has been active since September.