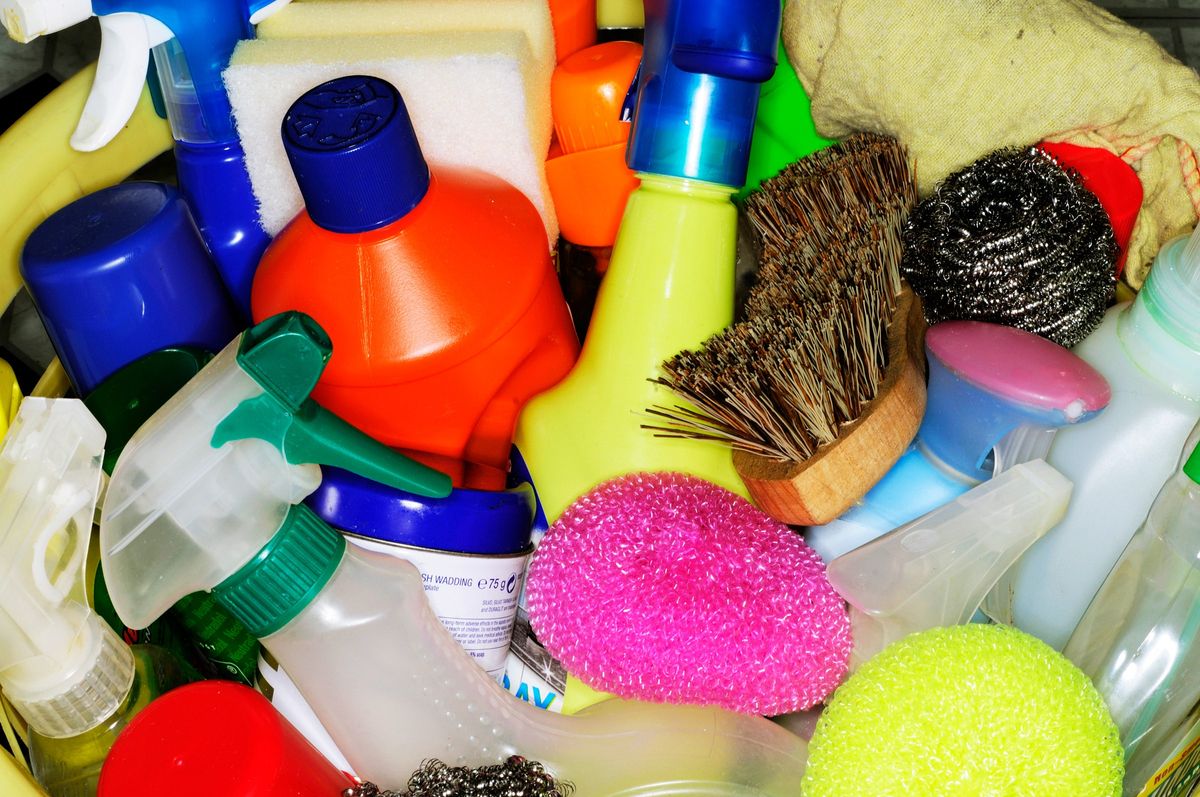 Clean and Disinfect Your Home
The first thing you'll want to know is that cleaning and disinfecting are two very different things.
Cleaning is about removing contaminants from a surface.

Disinfecting is about killing pathogens.

Do both daily if anything or anyone has entered or exited your home.
Transmission from person-to-person is a much greater risk than transmission via surfaces, but the CDC still recommends you clean and disinfect frequently touched surfaces in our homes at least once daily just to be safe if people touching them have been in contact with the outside world or people beyond their social bubble, since SARS-Cov-2 is capable of living on surfaces such as cardboard for 24 hours, but up to two or three days on plastic and stainless steel.
Examples of High-Touch Surfaces to Clean and Disinfect Daily:
Doorknobs
Table surfaces
Hard dining chairs (seat, back, and arms)
Kitchen counters
Bathroom counters
Faucets and faucet knobs
Toilets (seat and handle)
Light switches
TV remote controls
Game controllers
Now that you know what you're cleaning, here's how you should do it.
First Clean, Then Disinfect:
First, clean the surfaces, removing any contaminants, dust, or debris. You can do this by wiping them with soapy water (or a cleaning spray) and a hand towel.
Then apply a surface-appropriate disinfectant. The quickest and easiest way to do this is with disinfecting wipes or disinfectant spray.
That's it. Just adding these to your daily routine can help lower the risk of infection for you and anyone else in your household. If you aren't able to obtain disinfectants, just do a thorough job with the soap or cleaning agents you do have. The EPA has a full list of disinfectants that will kill the novel coronavirus, but here are a few essentials to keep an eye out for. You can find most of these disinfectants online at BQ Essential Trading if your grocery store is out of stock. Most disinfectants should have a label that lists the viruses they're effective against, and that's what you'll want to look out for more than any particular active ingredient.
"If a disinfectant product has an indication for killing influenza, RSB, SARS virus, or other coronaviruses, then it should work against this one also," Townes said.
Disinfectants:
Disinfecting wipes (Clorox, Lysol, or store brand will do)
Disinfectant spray (IMEC 585SC, IMEC 556 Sanitise, IMEC 556 Guard and Royalton's Royalsanis)